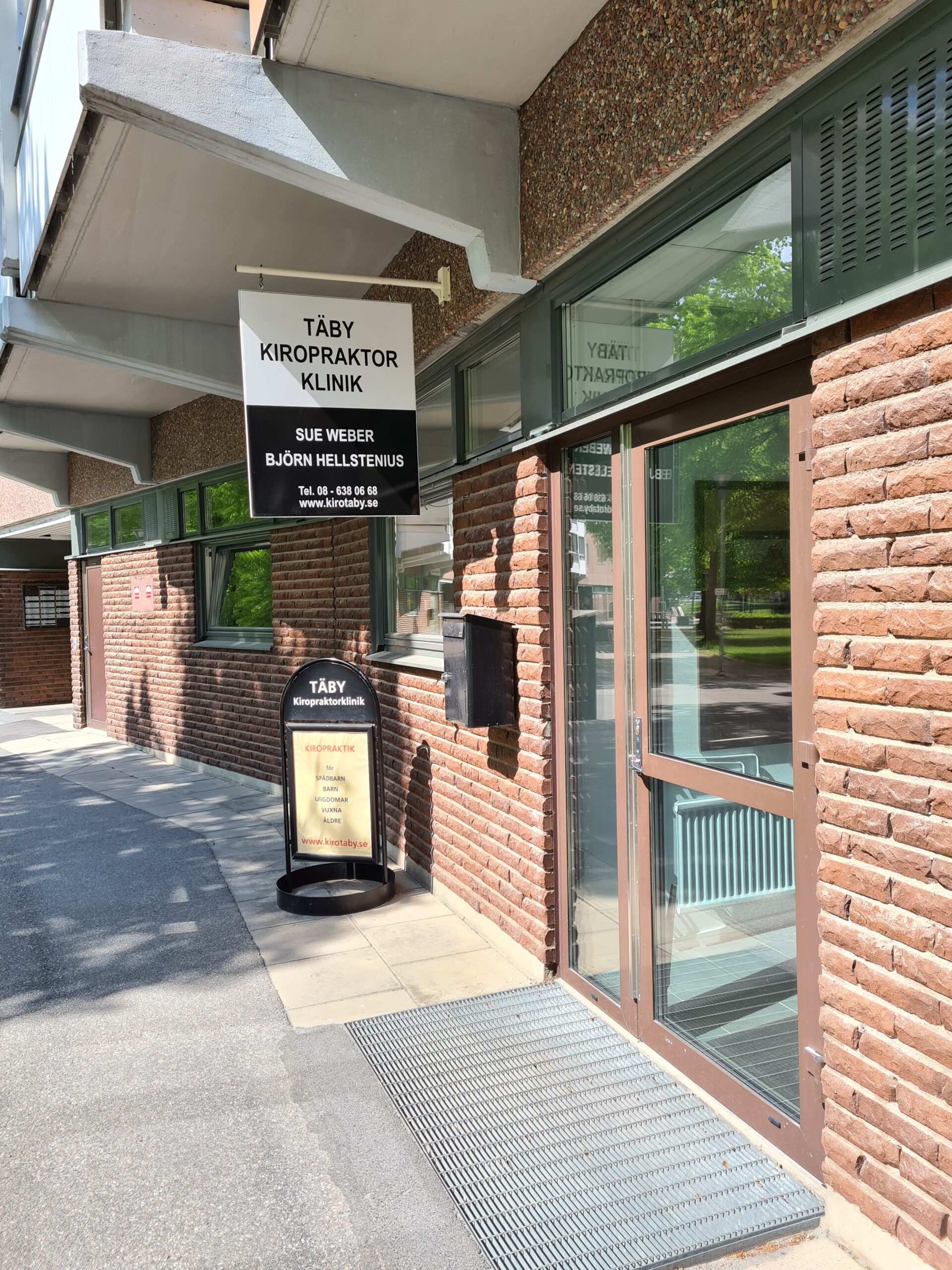 Welcome to Täby Kiropraktor klinik: 08-638-0668
Kliniken har semester stängt från och med 4/8 och öppnar åter 28/8. We are on vacation from the 4/8 and back in the clinic the 28/8. You can book a time through Boka Direkt via the link on the front page or you can also call reception at 08-638 0668. You can always write an email to us if you have a question: sue@kirotaby.se.
The telephone number brings you to our answering service which is available from 8:00 until 17:00 Monday through Friday. You can book a time or ask a question. You can also book a time on the opening page by clicking on the link "Boka direkt". Directions how to find us are under "hitta hit". You can contact us directly through email at sue@kirotaby.se.
On our homepage you can find all kinds of information, not the least of which is about how to deal with acute episodes of neck and back pain as well as exercises for stabilize an injury. Click on the following link to read and understand how to avoid injuring yourself with spring activities.
Vad är det som gäller vid ombokning av din tid? Ombokning av din tid
Check out our Golf prehab exercise program as a warm up before golf. Latent back problems can be provoked with the forward flexion and twisting when you drive the ball. To protect your back and keep the core muscles turned on, simple exercises and stretches can protect you. Instead of straining your back, you can get stronger with the right exercises. Prehab golf and Basic CORE
Kiropraktisk behandling minskar huvudvärk hos barn
Recent research into chiropractic treatment of school-age children with recurrent headache shows significantly reduced intensity and frequency of headache episodes. Treatment was found to be safe and cost effective and an important alternative treatment for children. En ny studie visar att barn med återkommande huvudvärk har mindre ofta huvudvärk och mindre besvär med kiropraktisk behandling. Slutsatsen var att behandlingen är ofarlig, kost effektivt och en viktig alternativ för behandling av huvudvärk bland barn. (Lynge et al, 2020. Effectiveness of chiropractic manipulation versus sham manipulation for recurrent headaches in children aged 7–14 years – a randomised clinical trial. Chiropractic & Manual Therapies (2021) 29:1. https://doi.org/10.1186/s12998-020-00360-3).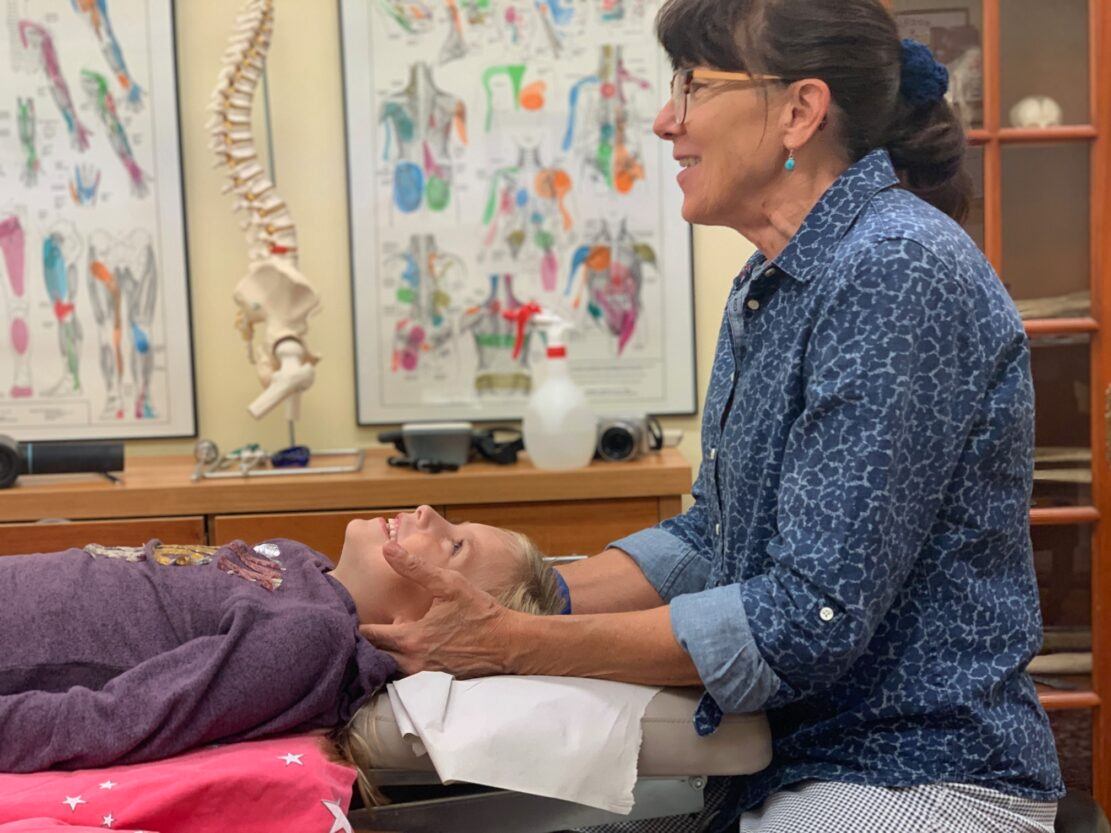 Differentiating headaches in children part II
Glad Sommar!
Det betyder oftast annorlunda projekt än på vinter och en del kan belasta kroppen så man får besvär. Om du har haft besvär under vår/vinter, kan det vara lämplig att tänka på hur du använder kroppen när du jobbar med olika projekt. Du ska framför allt undvika att luta dig framåt länge. Om du har mått bra under vinter halv året klarar du nog av vårens olika utmaningar. Tänk på att försöka hålla ryggen upprätt, böj på knäna (gärna knäskydd) and hålla armbågarna nära kroppen. Planera arbeta så du har olika moment där man jobbar med kroppen i olika positioner. Ta paus och om du känner av en gammal skada, SLUTA! De flesta har känt att de borde sluta, men gör klart de sista. Det är inte ovanlig att man får ont först dagen efter, så ta det försiktig! Använd gärna kyla om du tror att du har gjort lite för mycket!
När det gäller träning tänk på att dina träningsskor har en livstid och man får ont i benhinnorna om de är slitna och inte ge stötdämpning som de ska. Trötthet i ländryggen kan vara tecken att du använder ryggen fel. Cykling är nu lämplig igen efter de mesta snö och is har försvunnit, var försiktig i svängarna om gruset finns kvar. Stå gärna i backarna till och börja med. Om du vill få rekommendationer om lämplig träning för just dig, hör gärna av dig. En del patienter klagar över sina fötter, knä, höfter samt axlar och armbågar. De ska också fungera normalt, man behandla att öka ledernas rörlighet, sedan tränar man övningar som stabiliserar musklerna. När alla leder fungerar optimalt har man minst belastning på ryggraden. De är många som inte vet om att vi behandla alla dessa leder med god resultat!
För ni som idrottar och är tävlings inriktat, ska man behandla kroppens leder så att allt fungerar optimalt. Kiropraktorer är med i de flesta stora internationella tävlingar och bidrar till att idrottsmän och kvinnor presterar maximallt.
Kom ihåg att man ta hand om bilen regelbundet, smörj de rörliga delar, server den så den håller länge och ta hand om delar som blir slitna. Vi ska ta minst lika bra hand om oss själva!! Hör av er om ni behöver en "check up" eller om ni får besvär som inte går över efter ett par dagar.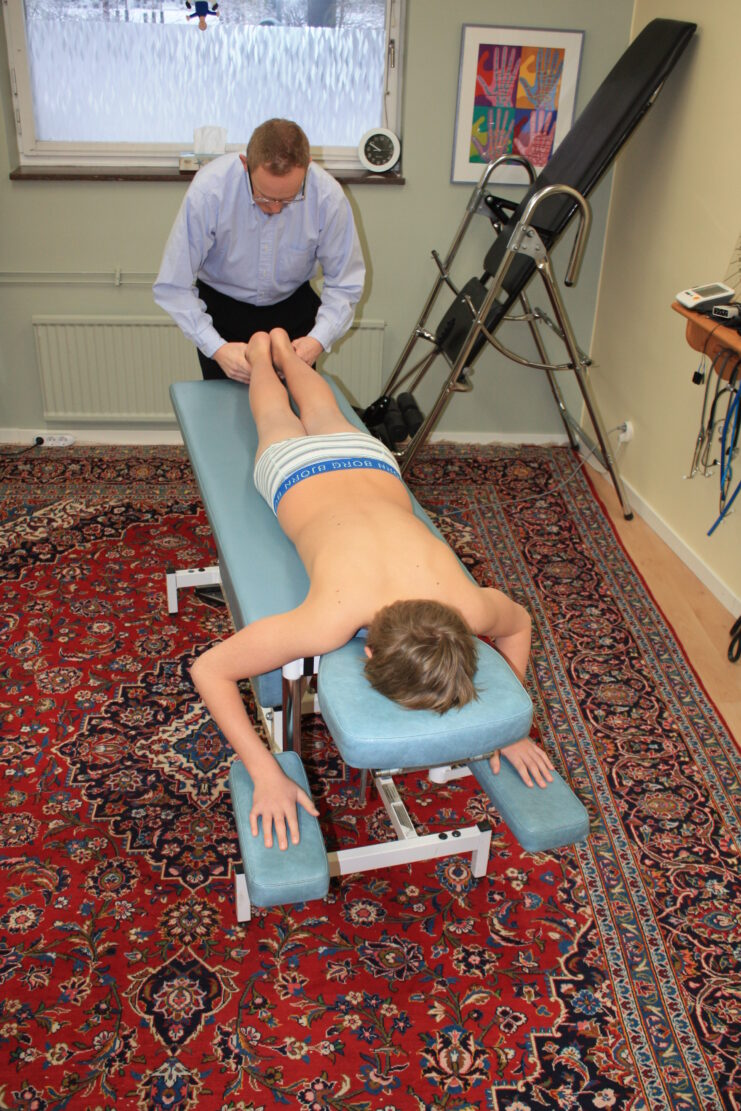 Chiropractic care for infants with difficulty breastfeeding A recent article took up chiropractic care for infants, particularly in regard to tongue tie. As a chiropractor specialized in the care of infants and children, I would like to make some comments. First, the practitioner caring for infants is recommended to have further education in the area of pediatrics to ensure safe care for this population. There are only a few chiropractors in Sweden that have this competency. We assess infants and children for different types of mechanical problems which interfere with normal function. This includes problems with breastfeeding. The infant with a painful condition like torticollis not uncommonly has difficulty breastfeeding as supporting their head may be painful. It is important to examine the infant to better understand the different types interfere with comfortable, efficient breastfeeding among which is tongue tie. Read more about how you as a parent can help your infant or child when they have been diagnosed with tongue tie. The manual techniques we use are modified for age and development. A research project in the UK included over 2000 mothers. Results were published in 2019 in a peer reviewed journal JMPT: "Maternal Report of Outcomes of Chiropractic Care for Infants". Statistically significant improvements were reported across all aspects of infant behavior studied, including feeding problems, sleep issues, excessive crying, problems with supine sleep position, infant pain, restricted cervical range of motion, and time performing prone positioning. Maternal ratings of depression, anxiety, and satisfaction with motherhood also demonstrated statistically significant improvement. The study's findings indicate that the changes observed by mothers were positive and may be clinically relevant." Chiropractors with advanced education in this area offer an alternative care addressing the mechanical functioning, which is safe and parents are very satisfied with.
Miller-Loncar C, Bigsby R, High P, Wallach M, Lester B. 2013. Infant colic and feeding difficulties. Arch Dis Child 2004;89:908–912. doi: 10.1136/adc.2003.033233.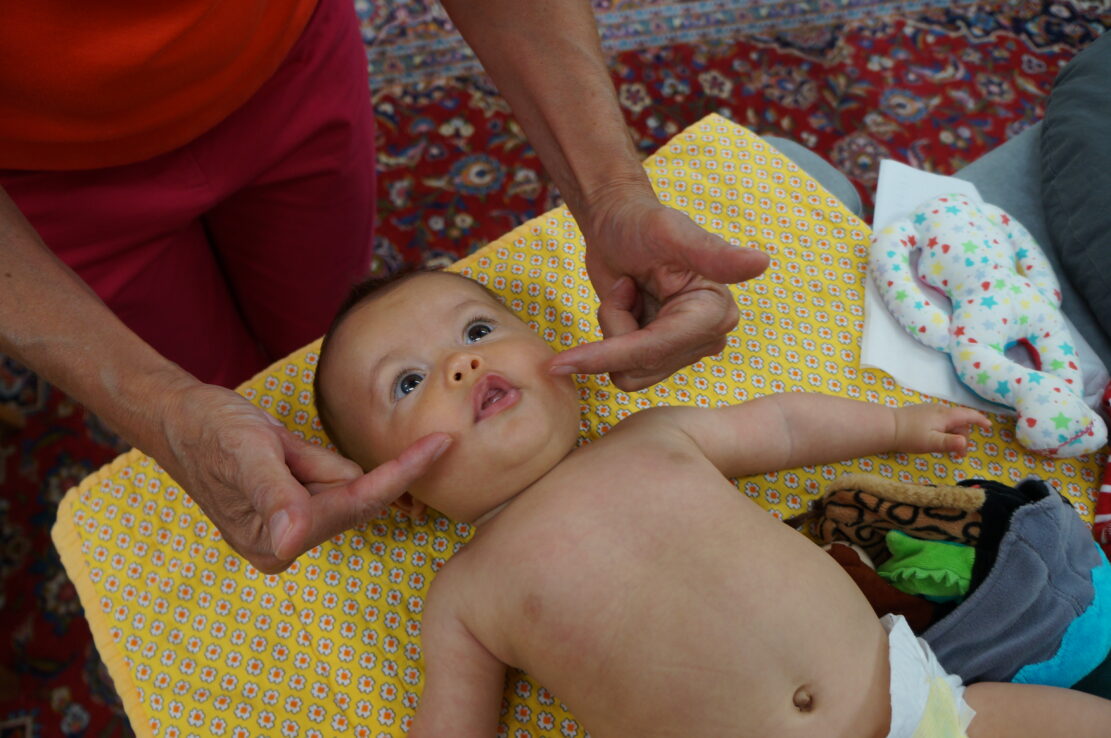 Gravid och Kiropraktisk behandling
Studier i USA har visat att behandling av gravida minskar sjukskrivningar och att dessa kvinnor är mer aktiv och mår bättre under graviditeten. Behandling för den gravida kvinnan är mjuk och är helt ofarlig för fostret. Den kiropraktiska behandlingen är inte bara för lederna, ligamenten och muskler, det ingår även råd om lämpliga övningar för att stabilisera kroppen, ergonomi på jobbet, näring och kost råd för den blivande mamman. Läs mer under Gravida