Behandling av Barn
Numera finns det inga restriktioner för en Leg. Kiropraktor att behandla barn, men man ska välja en Kiropraktor som har utbildat sig utomlands och vidare i området (Pediatrik). I Sverige, har Sue Weber längst utbildning och mest erfarenhet när det gäller undersökning, diagnostik (vad är problemet) samt behandling av barn. Sue utbildar kiropraktorer internationellt i undersökning, diagnostik och behandling av barn i alla åldrar. Rektorn av den Svenska Kiropraktor skolan har avslöjat att utbildningen i Sverige saknar helt kunskap i undersökning och behandling av barn. Hon avråder Svensk utbildade kiropraktorer starkt från att ta emot barn under 12 år (Bohuslänstidning, 2019). Det kan vara farligt att ta emot patienter när man inte har kompetens att förstå vad problemet handlar om. Samtidigt ska man ha kompetens i hur man behandla barn, det skiljer sig mycket från hur man behandla vuxna.
Målet är att barnet ska träffa en specialist med adekvat kunskap i manuell medicin som kan undersöka, diagnostisera och sätta in lämplig behandling samt rehabilitering i en tidig fas. Genom att söka hjälp tidigt, kan man lindra lidandet för barnet samt förmedla kunskap om hur de ska hantera sitt problem och förhoppningsvis undvika smärtor som vuxen.
I de andra Nordiska länder är det mycket vanligt att barn söker hjälp för besvär hos kiropraktorer. Dessutom finns det bara kiropraktorer med godkänd utbildning som får praktisera i övriga länder. Det finns ingen risk att en patient hamnar hos en som saknar utbildning som i Sverige.
Barn och Idrott:   Hur gör vi barnens aktiviteter mindre farliga?    Tänk på att när barn växer är skelettet känsligt för skador. Risken för skada är högre i början av säsongen i samband med en kraftig ökning av träning.
Tränings läger med en intensiv ökning i tränings mängd kan överbelasta det muskuloskeletala systemet under en växt spurt. För mycket träning kan skada skelettet som är under utveckling. Smärta under eller efter träning ska tas på allvar och kan vara tecken på en överbelastningsskada som kan behöva behandling samt ändring av träningsform.
Barn som får en skada ska få råd hos oss hur man ska lägga upp träning så skadan avlastas och blir stabil. Man ska söka hjälp hos en kiropraktor som är utbildad i undersökning och behandling av barn.
Ont i Ryggen: Klicka på länken för att läsa mera Ont i ryggen bland barn och ungdomar
Scoliosis (Skolios): klicka på länken för att läsa mera Scoliosis, Skolios
What is important in the treatment of scoliosis is evaluation of the curves, optimizing function of the spine and working with exercises to reduce the curves and gain core strength and stability. Each child gets an individual program which is based on how their curve has or is developing. Another important aspect of managing scoliosis is nutritional supplements. Certain nutrients, D vitamin in particular, are critical for the developing spine. There is a higher risk for scoliosis in Scandinavia due to the northerly latitude. Under the section "näring och hälsa" are recommendations for supplementing D vitamin, both how much to take and during which months of the year.
Musculoskeletal Injuries in Children. Klicka på länken för att läsa mera.
Interestingly, there are different groups of children who benefit from the basic core exercises which are fundamental to the rehabilitation program. Children with neurodevelopmental problems and children that are obese commonly lack normal movement strategies. Some children with neurodevelopmental disorders lack activation of the core prior to a movement. This results in movements that lack a smooth and coordinated rhythm. The goal with training is to teach these basic movement strategies so thse children can  experience how to access these muscles.For the obese child, guidance is needed to learn normal movement strategies and appropriate training to reduce the strain on the load-bearing joints which can be a source of injury and disability later in adult life.
Huvudvärk
En ny studie visar att barn med återkommande huvudvärk har mindre ofta huvudvärk och mindre besvär med kiropraktisk behandling. Slutsatsen var att behandlingen är ofarlig, kost effektivt och en viktig alternativ för behandling av huvudvärk bland barn. (Lynge et al, 2020) Chiropractic manipulation reduces headaches in school children
Barn drabbas av olika typer av problem i olika ålder. Det finns olika anledningar varför ett barn får huvudvärk. En anledning är att nacken inte fungerar normalt. Ont i nacken och/eller huvudvärk som börjar under uppväxten ska undersökas och behandlas så att problemet inte fortsätter upp i vuxen ålder. Dessutom kan problem med nacken förstärker andra sorts huvudvärk och gör att huvudvärken blir mer intensiv och varar längre.
Läs mer om huvudvärk hos barn.
Listen to a podcast by Sue Weber on headaches in children. This is featured in a series published by women in chiropractic. Episode 86: Headaches in Children – ACA (chiro.org.au)
Here are a series of articles published by sue Weber on headaches in children.
The changing phenotypes of migraine headache from infancy to adolescence
Differentiating headaches in children part II
Nacksmärta/Huvudvärk hos svenska mellanstadie elever och kopplingen till felaktigt rörelsemönster i halsryggen
Recurrent neck pain and headaches in preadolescents associated with mechanical dysfunction of the cervical spine
Även Barn får Ont i Nacken
In children the size of the head is proportionally larger in reference to the body until puberty. Injuries sustained to the head and neck in infancy will affect a different area of the spine than during later childhood. The weight of the head is a strain on the neck. With that said a key message for children is to reduce strain on the neck by avoiding looking down for extended periods of time. We are seeing a rise in the incidence of screen related neck and vision problems in children and adolescents which in Swedish is called " TECH NECK, PAD NACKE TECH NECK, PAD NACKE. 
There are exercises to reduce the strain on the neck and eyes in the following link Tech Neck Correction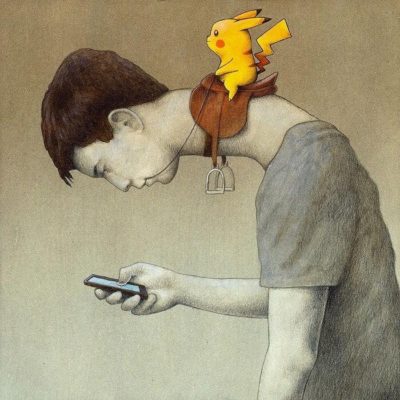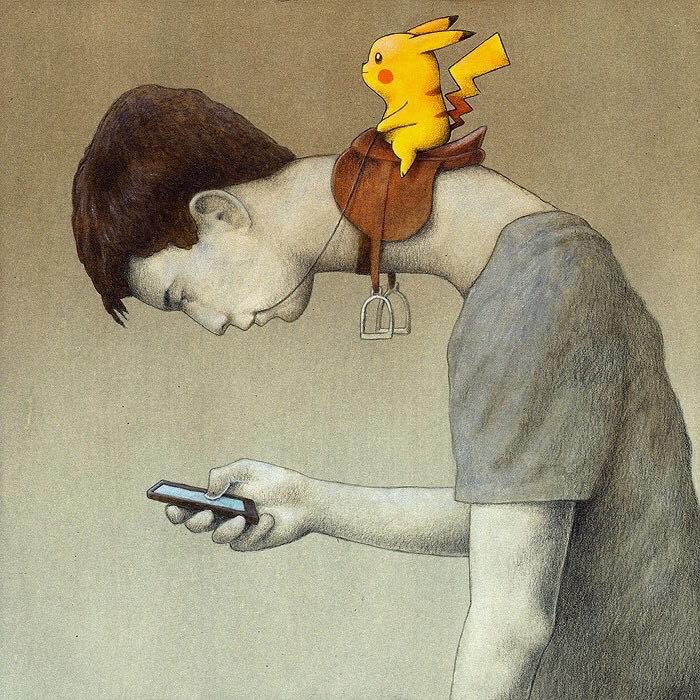 Below are summaries of the research Sue completed looking at children with neck pain and headaches.
Headache and/or Neck Pain in Preadolescents: Provoking factors
Trauma and Pain in the Child: Reporting of the parent and the child
Headache and/or Neck Pain in Preadolescents: Correlation between pain scale ratings and disability in activities of daily living
Kiropraktisk behandling minskar huvudvärk hos barn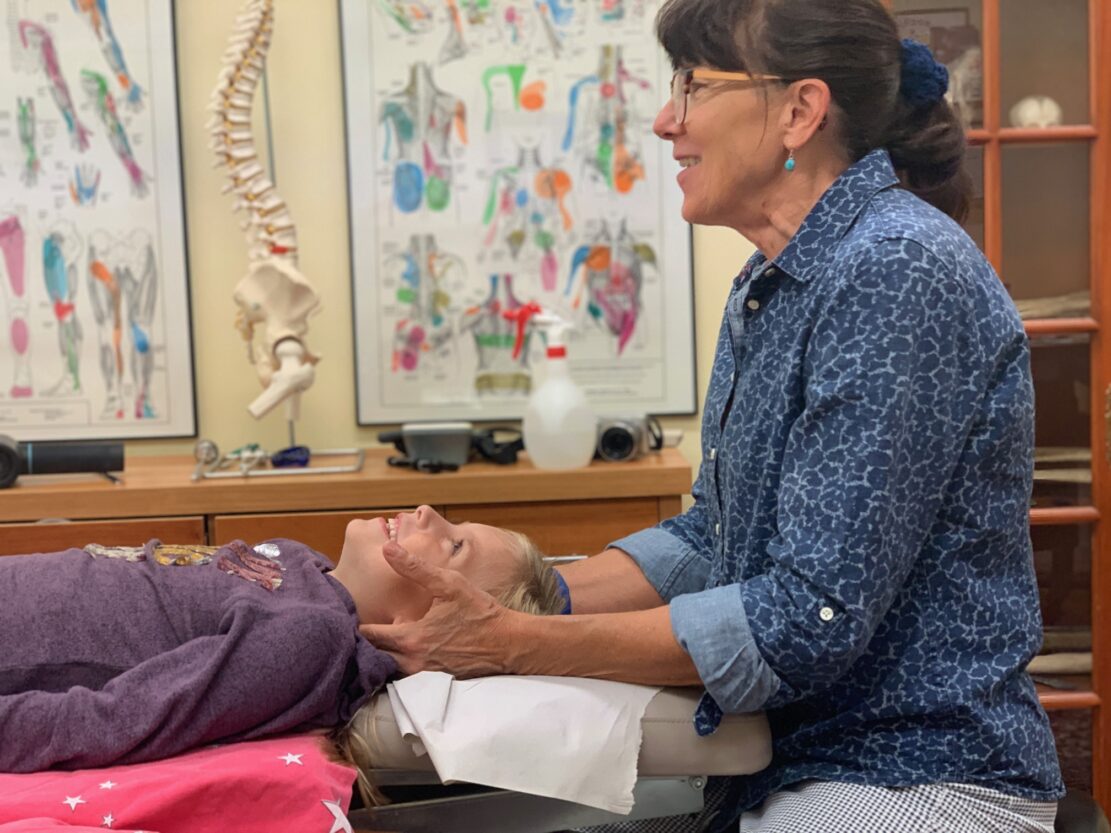 .Ergonomic Advice for the Child at Home and in School. 


Ergonomi för barn som tittar på olika skärmar, har läxor osv. nacken belastas när huvudet tippar framåt, så ni vill hjälpa barnen hittar ett bra sätt att sitta i olika situationer (t. ex. ha en kudde i famnen för att vila armbågarna på). Barnen ska inte ha för tunga ryggsäckar eller annat de bär på. Ergonomic advice has a greater impact in children 8, 9, 10 years old, it is often too late to start these changes in adolescence. Många barn, ungdomar nu måste plugga hemma och väldigt få har bra ergonomi för att sitta länge. Det är viktig att gå igenom hur man sitter bäst, var man sitter bäst (helst inte i sängen). Ni hittar mera information i länken ovanför. 
Rygg besvär bland barn
Barn i skolålder har ofta ryggbesvär och många har intensiv smärta som varar länge och påverkar deras dagliga liv negativt. Forskning har visat att besvär i ryggen och nacken ofta börjar redan i ungdomen (Dissing, 2017). Smärtor innan pubertet kopplas till smärtor i vuxen ålder (Joergensen, 2019). Ont i benen är också vanligt hos barn och det kan komma från ryggen, forskning har visat att smärtor i benen ofta uppstår innan barnet får ont i ryggen (Fuglkaer, 2017; Fuglkaer, 2018). Växtvärk är en diagnos som är ospecifik och borde undersökas närmare av en specialist inom manuell medicin t.ex. en kiropraktor utbildad inom pediatrik.
Preschool Physical Activity Guidelines: Follow the link to read the World Health Organisations recoomendations: Preschool Activity Guidelines
Barn och idrott
En idrottare är allt från barn som lär sig en sport, ungdomar som tränar, vuxna som tävlar till vuxna och äldre som håller sig igång. Som ung är det viktig att träningen är anpassad efter ålder, detta för att minimera risken för skada. Björn är engagerad som tränare och kiropraktor för barn från sex åringar och uppåt i ålder i båda hockey och fotboll och har utbildning som fokuserar på förebyggande skador och ålders anpassade träning. Senaste forsking från Danmark visar tydligt att barn klara sig bättre från allvarliga idrottsskador genom att inte specialisera sig för tidigt. Helst ska man spelar olika sport ändå upp i tonåring. Läs mer om idrottare.
En del barn med så kallad "växtvärk" i benen har störningar i bäckenets funktion och detta kan vara orsaken till besväret. Brist på D-vitamin har också kopplats till växtvärk hos barn samt brist på Selen.
Man kan även behandla besvär i axlar, armbågar, höftleder, fotleder och knän. Alla kroppens leder kan drabbas av mekaniska störningar. När barnet har besvär bör han/hon undersökas av en kiropraktor. Behandlingsteknikerna är anpassade för barnets ålder och utveckling men är överlag mycket mjuka. Forskning har visat att dessa mjuka tekniker är ofarliga för barn.
Utveckling
Barn har fram till puberteten inte ett fullt utvecklat skelett. Till exempel är inte halsryggens kotor helt utvecklade o därför är nacken inte lika stabil hos barn som hos en vuxen. Detta är anledningen till att barn som spelar fotboll skall undvika att nicka på hårt slagna bollar t.ex. inspark från målvakten eller ett inlägg innan puberteten. Efter puberteten är skelettet fullt utvecklat och fortsätter växa i storlek upp i tonåren.
Ligamentsystemet är även under utveckling under växtperioden. Detta sammantaget innebär att slag eller andra trauman kan få större konsekvenser för barn än vuxna. Nacken är särskilt utsatt eftersom den inte är färdigutvecklad och huvudet väger mer i förhållande till kroppen än hos en vuxen. Om barn/ungdomar slår i huvudet finns det även risk för skador i nacken som inte syns på röntgen. Ofta uppstår mekaniska störningar eller låsningar i nacken. Under västspurten är skelettet och framförallt kotorna skörare därför bör träning anpassas så skador inte uppstår.
Forskning som jag har publicerat visade att svenska barn i mellanstadiet med ont i nacken och/eller huvudvärk hade mekaniska störningar/låsningar i nackens kotor.
Läs om rekommendationer för att undvika D-vitamin brist bland barn och ungdomar under vinterhalvåret.
From September through April D-vitamin needs to be supplemented due to the northern latitude and lack of exposure to the sun. Vitamin D is most well know for its role with calcium for skeletal health, building strong bones! Children with a low vitamin D present with a higher incidence of fractures from normal activities.
Plexus Träning
Integration av sensorisk information till hjärnan och motorisk träning av den skadade sidan
Vibration stimulerar en särskilt bana i nervsystemet som gör att hjärnan bättre kopplar signaler från det berörda området. Massage på spända muskler runt omkring axeln och skulderbladen hjälper armen röra sig friare.
Träning som fokuserar på hur man aktiverar CORE muskler, särskilt i bålen, är viktigt för balans och stabilitet. Instruktioner och bilder finns på hemsidan www.kirotaby.se. Klicka på "REHAB", scrolla ner till ländryggsstabilitet 1. Under grund position stående hittar man hur man aktiverar CORE muskulaturen. Jobba gärna att hitta spänning i magen "SSSHHH" och sedan vid ett separat tillfälle hur man aktiverar muskulaturen för att få ner axlarna.
Fortfarande på "REHAB" sidan kan man scrolla ner och hitta "Axlar armbågar". Där hittar man gummibands övningar för axlarna. Målet är att lära sig hur man tränar axeln för sig och inte hela sidan med axel/skulderblad som en enhet. Skulderbladen rör sig förstås men axelns rörelse är framför allt större än skulderbladet, för varje grad som skulderbladet rör sig skall axel/arm röra sig 2 grader.
Ett genomgående tema för barn under 3 är att de ska göra saker lika mycket med hö som vä sida. T.ex. ska ta i lika mycket med hö som vä. Även sparka boll med hö samt vä ben. Barnet ska resa sig från både vä ben och hö ben. Barnet ska gärna krypa.
Vart efter att barnet blir äldre försöker ni introducera aktiviteter där man korsar kroppen. Klappa händerna, knäna i kors. Dansa med musik kan vara lockande och lätt att hitta på kropps rörelser. Barnet kommer också klarar av fler olika övningar på sidan i programmet ländryggs stabilitet 1. Cylinder övningar blir så småningom lämpliga när barnet blir äldre. Flexibar övningar finns också på hemsidan.
Ergonomi för barn som tittar på olika skärmar, har läxor osv. nacken belastas när huvudet tippar framåt, så ni vill hjälpa barnen hittar ett bra sätt att sitta i olika situationer (kudde i famnen för att vila armbågarna på). Barnen ska inte ha för tunga ryggsäckar eller annat de bär på.
---
Referenser:
Hutton J, Dudley J, Horowitz-Kraus T, et al. 2020. Associations Between Screen-Based Media Use and Brain White Matter Integrity in Preschool-Aged Children. JAMA Pediatrics, 174(1).
Paulus M, Squeglia L, & Tapert S. 2019. Screen Media Activity and Brain Structure in Youth: Evidence for Diverse Structural Correlation Networks from the ABCD Study. Neuroimage, 185, p.140-153.
Han H, Lee S, & Shin G. 2019. Naturalistic data collection of head posture during smartphone use. Ergonomics, 62(3) p. 444-448.
Bueno G, Garcia L, Bertolini, S, Lucerna T. 2019. The Head Down Generation: Musculoskeletal Symptoms and the Use of Smartphones Among Young University Students. Telemedicine and E-Health, 25(11).
Joergensen AC, Hestbaek L, Andersen PK, Nybo Andersen AM. 2019. Epidemiology of spinal pain in children: a study within the Danish National Birth Cohort. Eur J Pediatr.;178(5):695-706. doi: 10.1007/s00431-019-03326-7.
Dissing K, Hestbæk L, Hartvigsen J, Williams C, Kamper S, Boyle E, Wedderkopp N. 2017.Spinal pain in Danish school children – how often and how long? The CHAMPS Study-DK. BMC Musculoskelet Disord.;18(1):67. doi: 10.1186/s12891-017-1424-5.
Fuglkjær S, Hartvigsen J, Wedderkopp N, Boyle E, Jespersen E, Junge T, Larsen LR9, Hestbæk L. 2017. Musculoskeletal extremity pain in Danish school children – how often and for how long? The CHAMPS study-DK. BMC Musculoskelet Disord.25;18(1):492. doi: 10.1186/s12891-017-1859-8.
Fuglkjær S, Vach W, Hartvigsen J, Wedderkopp N, Junge T, Hestbæk L. 2018. Does lower extremity pain precede spinal pain? A longitudinal study. Eur J Pediatr.;177(12):1803-1810. doi: 10.1007/s00431-018-3235-6.

Lifschitz & Szajewska. Cow's milk allergy: evidence-based diagnosis and management for the practitioner. Eur J Pediatr (2015) 174:141–150 DOI 10.1007/s00431-014-2422-3.

Dobson D, Lucassen PLBJ, Miller JE, Vlieger AM, Prescott P, Lewith G. Manipulative
therapies for infantile colic. Cochrane Database of Systematic Reviews 2012, Issue 12. Art. No.: CD004796. DOI: 10.1002/14651858.CD004796.pub2.
Ndetan H, Evans MW, Hawk C, Walker C. Chiropractic or osteopathic manipulation for children in the United States: an analysis of data from the 2007 National Health Interview Survey. J Altern Complement Med. 2012 Apr;18(4):347-53. doi: 10.1089/acm.2011.0268. Epub 2012 Mar 2.
Mayes, T. et al. Prevalence of Vitamin D Deficiency in Pediatric Patients With Scoliosis Preparing for Spinal Surgery. Spinal Deformities, 2017.
Alcantara J, Ohm J, and Kunz D. 2009. The safety and effectiveness of pediatric chiropractic: a survey of chiropractors and patients in a based research network. Explore 5 (5);290-295.
Auvinen J, Tammelin T, Taimela S, Zitting P, Karppinen J. (2007). Neck and shoulder pains in relation to physical activity and sedentary activities in adolescence. Spine; 32(9)1038-44.
Brattberg G. (2004). Do pain problems in young school children persist into early adulthood? A 13 year follow-up. European journal of Pain; 8:187-99.
Carlton P, Johnson I, and Cunliffe C. 2009. Factors influencing parents' decision to choose chiropractic care for their children in the UK. Clinical Chiropractic;12:11-22.
Feldman D, Shrier I, Rossignol M, Abenhaim L. (2002). Risk Factors for the development of neck and upper limb pain in adolescents. Spine;27(5)523-8.
Ferrance R, Miller J. (2010). Chiropractic diagnosis and management of non-musculoskeletal conditions in children and adolescents. Chiropractic & Osteopathy;18:14.Doi:10.1186/1746-1340-18-14.
Kidd R., Nelson R. (1993). Musculoskeletal dysfunction of the neck in migraine and tension headache. Headache:33:566-9.
Hakala P, Rimpelä A, Salminen J, Virtanen R, Rimpelä S (2002). Back, neck and shoulder pain in Finnish adolescents: national cross sectional surveys. BMJ; 325:743-5.
Hawk C, Schneider M, Ferrance R, Hewitt E, Tanis L, et al. (2009). Best practices recommendations for chiropractic care infants, children and adolescents:Results of a consensus process. JMPT.32(8)639-47.
Hestbaek l, Jørgensen A, Hartvigsen J. A description of children and adolescents in Danish chiropractic practice: Results from a nationwide survey. JMPT;32(8)607-15.
Hestbaek L, Stochkendahl MJ. (2010). The evidence base for chiropractic treatment of musculoskeletal conditions in children and adolescents: The emperor's new suit? Chiropractic & Osteopathy;18:15.Doi:10.1186/1746-1340-18-15.
Laimi K, Vahlberg T, Salminen J, Metsähonkala L, Mikkelsson M, Anttila P, Aromaa M, Sillanpää M. (2006). Does neck pain determine the outcome of adolescent headache? Cephalalgia; 27:244–253.
Martin B. (2005). Paediatric cervical spine injuries. Injury, International.Journal of Care; 36:14-20.
Miller J.E, and Benfield K. 2008. Adverse effects of spinal manipulative therapy in children younger than 3 years: a retrospective study in a chiropractic teaching clinic. Journal of Manipulative and Physiological Therapeutics;31(6)419-423.
Murphy S, Buckle P, Stubbs D. (2004). Classroom posture and self-reported back and neck pain in schoolchildren. Applied Ergonomics; 35(2)113-120.
Sjaastad O, Fredriksen T, Petersen H, Bakketeig L. (2003). Features indicative of cervical abnormality. Functional Neurology; 18(4):195-203.
Weber Hellstenius S. (2009). Recurrent neck pain and Headaches in pre-adolescents associated with mechanical dysfunction of the cervical spine: A cross-sectional observational study with 131 students. JMPT;32(8)625-34.
Weber S, Miller J. (2008). Pharmceutical treatment for migraine prevention in children: Is there evidence to support its safety and efficacy? In: Conference and Research Symposium in Chiropractic Pediatrics, 18-20 April Austrailia. ICA Council on Chiropractic Pediatrics, 54.
Gotlib A, and Rupert R. 2008. Chiropractic manipulation in pediatric health conditions – an updated systematic review. Chiropractic and Osteopathy, 16 (11). Available from: http://www.chiroandosteo.com/content/16/1/11 [Accessed 16 September 2008].
Qamar S, Akbani S, Shamim S, Khan G. 2011.Vitamin D levels in children with growing pains. J Coll Physicians Surg Pak.;21(5):284-7. doi: 05.2011/JCPSP.284287.