A chiropractor is a primary health care professional focused on the diagnosis and treatment of neuromuscular disorders, with an emphasis on treatment through manual adjustment and/or manipulation of the spine, pelvis and extremities (the joints of the arms and the legs). Their skills include differential diagnosis which is recognizing if a patient has a more serious problem that needs medical attention and referral. Manual therapy techniques are many and address muscles, ligaments and joints that are not functioning properly. Forces appropriate for treatment have been researched, (even in the area of pediatrics) which guides the practitioner in safe and appropriate treatment.
Most chiropractors seek to reduce pain and improve the functionality of patients as well as to educate them on how they best can achieve optimal health. This is achieved through education patients in individual rehabilitative exercises, nutriton, ergonomics and other therapies they may be relevant.
There are specialist areas in Chiropractic where further education provides skills in a specific areas. In our clinic Sue is a specialist within chiropractic pediatrics.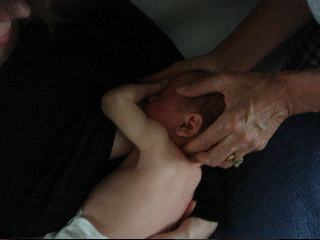 This is achieved through a university education and includes skills in differential diagnosis to ensure safety of the patient. Björn has specialized in extremities, that is the treatment and rehabilitation of the feet, knees, hips, shoulders and hands.